World Run II / World Run II, first half
Malmö, Sweden, 2010-05-15
As promised at the finish of the first half of World Run II at Cape Town, South Africa, I will make an overview of the experienses so far. It was supposed to be avaliable online about one month ago, but first now has there been energy and sufficient recovery to make a proper overview of the 21 494 km long streatch from North Cape at the tip of Scandinavia to Cape of Good Hope at the South of Africa. It took 2 months to get ready to do regular daily training again -a thing that I was doing only 6 days after the finish of the first World Run; and I guess thats a good example of how taxing this run has been even compared with the 26 232 km of World Run I.
The aim of this halfway report is to note down the experienses continent by continent. I'll start out with the cultural impressions of the four main regions so far; Scandinavia, Europe, the Middle-East and Africa. Upon that follows physical, mental/motivational and equiptment evaluation. Please be prepared that some of the comments and observations might not be in tune with "political correctness" - which could make me a bit hesitant as a political scientist by education. But what would the reports from the run be worth, if I didn't try to portrait the truth as I experiensed it, even if it does not match the main picture we might have of some of the regions of the world and their problems? So; I hope you can bear with a few controversial takes especially on what the African 'problem' is, at least when the continent is seen literally step by step and village by village. It certainly was another picture and set of explanations than what I politically would have prefered/expected to see. But first things first:
Scandinavia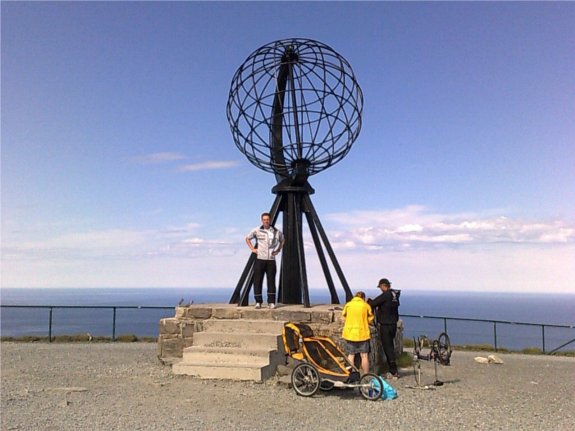 Nordkapp, Start 2008-07-01
The first few steps, beeing the streatch from Nordkapp in Norway to Germany, a distance of around 2500 km of running, were a bit stressfull compared with World Run I, which I completed 4 years earlier (www1.worldrun.org). I guess most of all due to the much higher degree of attention this run recieved at the start -in many ways it is easier to begin a run of this scale if you are a bit anonymous. That is, if you can at all talk about "easy" in relation to runs which are measured in years and months raughter than hours and minutes and in 10 000 km segments instead of 10 km's.
An expample of this is that the start actually is one of the most vulnerable phases in this type of run! In order to secure a fair chance of success, I use 2-2½ years of detailed planning; logistics, visas, vaccinations, contry & cultural research, learning the basics of a few languages, training camp, mental preparation etc. But until you get a fair bit into the run you can't know wether your body and psyke will be up to it or not. The first few weeks your body or mentality simply is not yet beeing tested to anything merely near its limit. But what makes the start difficult in this relation is the knowledge, that it is going to be a test of the perhaps most extreme kind avalible in every aspect of the physical and mental abiliy to handle hardship; thus you can't take anything for given just because you have done it once before.
- But of course this is not an obvious thing if not beeing used to the mechanics of multi-continent runs.
There were a general perception among journalists and sponsors that "if he can do it once, then he can do it twice". Quite nice when searching for sponsors but it does put a fundamentally different pressure when starting this second run where I and my logistics maneager, Phil Essam from Australia, knew that the challenges would be huge even in comparison with the task of running 10 000 km straight across Russia and Siberia in World Run I. Seen in the hindsight here at the halfway point we didn't realize that it would be harder than we would be able to imagine when coming from a western part of the world where the "horrors" of running down through Africa are too far from any references we experiense or hear about in our daily life. So this was the scenario when facing the start.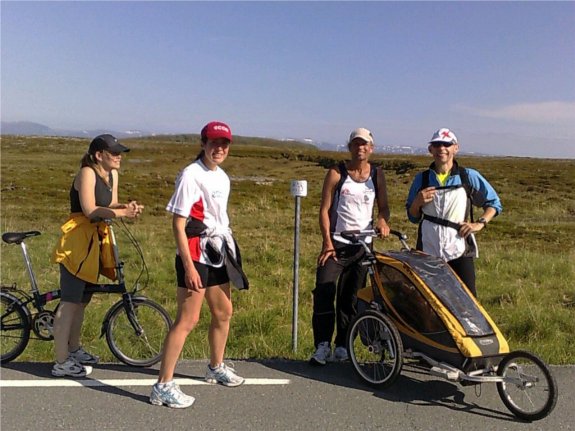 The team at Nordkapp: Irma, Sarah, Peter and Erik
As mentioned the start was at Nordkapp; its the northernmost point on the European continent and in ways of roads and logistics also the furthest North you can start a run N-S around the world. (you can find more northern points on other continents but without proper roads and in circumstances which would make it more a walk than a run - the World Run II and the World Run I are done out of the principle that "run" actually means running every single step of the way :-)
These first running steps on a sunny July-day in Norway in 2008 were accompagnied by Sarah Barnett from Australia, one of the top female multidayrunners in the world aiming at running one or more continents together with me; Peter Rietveld from Holland which is very experiensed in logistics from more than a decade of work in the 3rd world contries for Doctors Without Borders and who joined me when I was running across the Rocky Mountains in Canada during World Run I; Erik Nossum from Norway who together with his fishing-buddy Geir were my first support team of the run: local runners who for a day, a week or a month keept me company on the road and help with local knowledge or as in this case even a supportcar - so Sarah and I didn't need to push the running-stroller with its 30 kg of equiptment the entire way from Nordkapp to Cape Town. A much appreciated service and an example of how this run is not "mine" but the totality of runners and locals who make it possible to complete this cross-cultural project of running around our world; take away a few and I would never have reached Cape Town! Or indeed be able to take on South America and North America once I'm ready and recovered for the last half :-)
Along with us on the 1st of July where also a danish sports-journalist, who delivered the remark of the day: "How does it feel after 1 km and with 39 999 km to go?" A relevant question, maybe, but also one which anyone aqainted with distancerunning will know you try your best not to present yourself with. Who would ask themselves upon the first kilometer in a marathon "that was one kilometer, I wonder if I can maneage the next 41?"; not good for the motivation but one of the 'expenses' of having a higher mediaprofile this time around. I don't remember what I told the tv-camera at that time but to my luck I was more busy going over the logistics of the first stages with Erik who ran beside me and not having time to ponder the question too deeply. Surely you ask yourself a question like that; very often infact as part of the mental preparation, but it has to be months and years before the start and not right at the moment when your have just started and are trying to focus your concentration.
But apart from this surprise-at-the-start the first part of the run went well and without other dramas. The highlights were the runners support especially in Finland where they not only ran with us the entire 1400 km through their contry but also presented us with a new car for our use as support-car in Finland, complete with driver. Amazing! Its a contry and a culture where endurence-running and in particular "Sisu" (the ability to overcome hardship, especially in relation to sport) is still at the core of the national psyke, probably strongly influenced by the fact that Finland in its first decades as a new nation dominated the longdistance running events at olympics and world championships, thus beeing a central part of the national mentality.
Other highlights were the Scandinavian summer which offer sunlight 24 hours a day above the Arctic circle, and a stunning silence up North that one only find similar in Siberia and the big deserts of the world.
A joy also to celebrate my 38 year birthday in company of good friends and fellow extremerunners in a sourrounding of arctic lakes, glaciers and a tent pitched with an undisturbed view of the mountains dropping directly into the freezing ocean. Along with an oppotunity to ponder that strange walk of life that I have chose to be mine:
a childhood growing up much of the time outside with an "outside kindergarden" (perhaps that started the foundation of endurence running?), a huge joy of all kinds of sports but especially running where I debuted on marathon as 15 years old; later mixing my daily training with academic studies resuting in a bachelor in law and a masters in political science but still intensively competing in races from 10 km to marathon. The time divided likely between those two occupations and little else, except maybe my joy of philosophy which began even earlier than my running; and perhaps shares its way of asking quorions questions as to where the limits are - eighter in our understanding of what is the boundaries for us as humans, both in relation to perception and as physical beeings. Always very competetive I eventually realized that with a personal best on marathon of 2:27h. I was at least 20 minutes to slow; and the logical conclusion if you are courious to reach the limit of absolute capacity: to step up in distance untill you reach the final frontier. After this followed many years with extreme running, founding our danish national team who takes part in the annual world championships on 100 km and 24 hours, setting national records on all distances from 50 km to 6day running, though never staying long at any event before I again moved up or on' in distance. Most of the records has later been beaten which I think is part of having a healthy competetive enviroment where you can count yourself lucky to have been able to set some of the targets for new generations :-)
Seen in that light it was perhaps not so surprising to find myself in a tent in the arctic on my birthday, beeing on my way running around the world - for the 2. time!
As mentioned I was fortunate to have with me on the run Sarah Barnett from Australia. For her I guess it was a head-on' experiense of the Northern part of Europe with all the attention the run got this time. For example a "World Run marathon" had been organized as part of the route in Denmark, from Elsinore to Copenhagen, with around 120 participants keeping us company on the first stage in my home contry. Sarah was putting on a good pace and made sure no one mistook it for a sunday-jogg as she reached the finish in around 3:45h. This was a "social marathon" event and no competetion; however I do strive to take part in races along the route when they fit into the scedule; so far a 10.4 km off-road competetion in Finland (38 minutes; 4th place), a 2mile race in Helsinki (3.2 km, 11:01 minutes, 2nd place), a 24 hour in Berlin Bernau (211 km, 1st place, route-record), a 48 hour invitational race in Cairo (306 km, 1st place - but small field) and a 6-day race (did not finish due to too many infection/tropical diseases by that time).
The run through Denmark with its pleanty of occations to meet up with old running friends were very enjoyable but, I guess, also a bit intense for Sarah compeared to a quiet training enviroment in Adelaide. She took it in good spirit though not knowing that there would be much harder moments in store for both of us a few months later: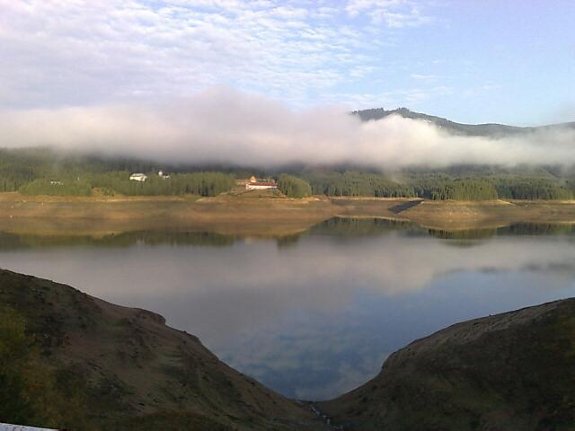 Romania - View at mountain pass
After Denmark and the Northern parts of Germany the route took us running through Eastern Europe: Poland, Czeck Republic, Slovak Repuclic, Hungaria, Romania and Bulgaria. This segment of the run was most of all influensed by the chaotic and somethimes dangerous traffic on the highways in Poland yet on the other hand the stunning sceneries in the remote mountains of central Romania. Next contry up after the Eastern European region were Turkey where we were handed some tough stages through this, in European terms, large contry. It was a streatch which eventually limited the run to only one runner as Sarah returned home to Australia after having reached the Mediteranean Sea near the little Turkish harbour-city of Silifke. I suspect the background was most of all the increasing physical stress of pushing the runningstroller (see quiptment list below) loaded to a weight of up to 35 kg's for both my and her stroller. The difference beeing that the weight-ratio of 'runner to stroller' for my part was't too bad, approx. 50% of bodyweight, whereas for a light runner like her, it would approach nearly 80% of her bodyweight she had to push in front of her while running the daily stages. A drastic demand of any runner and adding the by then 7000 km of running and in average 50 km stages per day, then it was only a matter of time before a final obstacle would 'tip the balance'. This came in the form of the very mountanious central Turkey and by the time we had reached the Mediterranean Sea it had become enough, partly I think because I had by then become too exhausted myself to be able to offer any substantial support!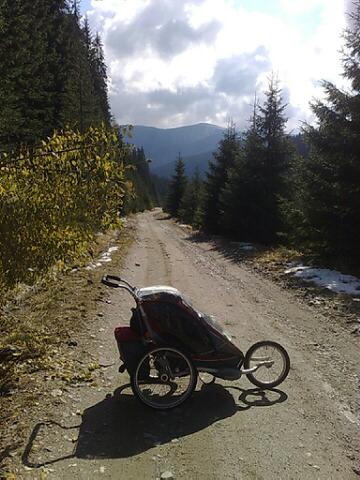 Romania - Transsylvanian mountains
Even though it was a major set-back for both of us, I take comfort in that we both maneaged to get something positive out of it; which I think is a typical trademark for all ultrarunners alike. Sarah went on to Win the international 6-day competetion in South Africa half a year later, setting a new course record and beating the first male runner with a fair margin; and subseqvently travelling to Sweden and winning the womens division with an outstanding performance of 713 km for the 6 days of running. I am certain beyond any doubt that had she not been generous and courageous to join me for the critical first half year of the run - then there would not have been much courage of my own to step up to the startingline; as explained in the beginning: a run like this is not a thing you enter into or succeed at without considering the risks and searching as deep as possible into yourself to find the courage (despite the "Forrest Gump" image which running across continents may be connected with ;-)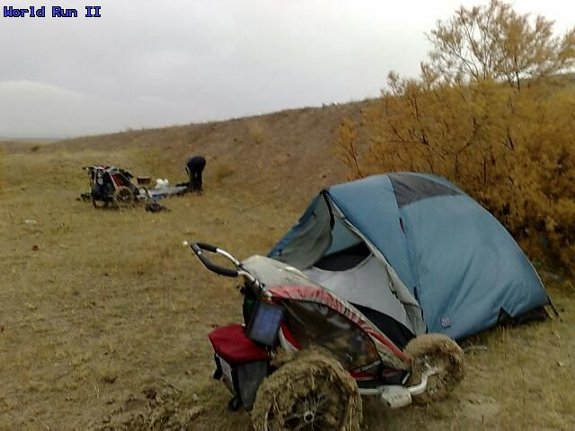 Tenting in Turkey
The Middle-East
The Middle East became the start of a series of very pleasant experienses running through the Western part of the Arab world!
One might be a little hesitant of the whole concept of running straight throug the Middle East with all the conflicts and from time to time anti-western sentiment as seen in the portraits of this region in much of the main-stream news. How would I fare jogging slowly through, pushing a heavy loaded running stroler and depending entirely on local support?
- It is no secret that I fairly quickly fealt almost at home! The hospitality and the combination of couriosity and actually embracing both the idea of the World Run and just the fact that I had run from a 'far away place' to their specific contry. Of course I and my logistics-planner Phil Essam had had some security considerations, but once I got used to the culture I fealt more safe running here than in many places in the westerne world; no hassles from eighter from police and authorities or from the general population.
Actually the experisence was a far cry from the worried or anxious expectations one could perhaps have: an example which stands out was when I in Syria was met by representatives from the Syrian Athletic Federation the moment I ran across the small seldom-used border-station upon exiting Turkey. Two gentlemen had been waiting into the early evening for my delayed crossing of the border, as I was hesitant to run the last 10 km's as I finally approached the moment where I had to say "Goodbye" to Tyrkey which in many ways had been such an enjoyable contry to run through with a nature and scenery heaps more diverse than I had expected with rugged mountains, huge plains, silent rural villages, remote mini-deserts and large chaotic cities (first amongst them Istanbul - probably the most dramatic traffic I have ever run through when approaching Istanbul itself and later the Bosporus Bridge, pushing a 35 kg runningstroller and trying to keep track of a Sarah Barnett who fealt like a 'fish in the water' under the same conditions :-)
The two gentlemen patiently awaiting my goodbye with Turkey and the warm images it had left me with, were representatives from the top of the Syrian Athletic Federation. They appeared to have studied my route-plan with a keen eye for making me welcome and had planned my 18 days run straight through their contry down to the last detail: accomodation were in place for me each day after the run, with no charge! And first class accomodations by the way! Running support each day by their best athletes - and since they doesn't have many runners above sprint and middle-distance it was nicely solved by letting their athletes run relay along my route; providing great company and interesting conversation with the often young athletes with loads of questions about how elite sport is abroad, what "ultrarunning" is and how runners back in Denmark train and live. There is a chance it could have been problematic pushing the running stroler admidst all this sudden attention? But no! A mini-bus was put to my disposal also in this way making sure I fealt welcome - this was an overwhelming introduction to running in the Middle East, but I have to say that the hospitality is something which I came to notice as a common thing in all the Arab contries I ran through (with Egypt as an exception, see below).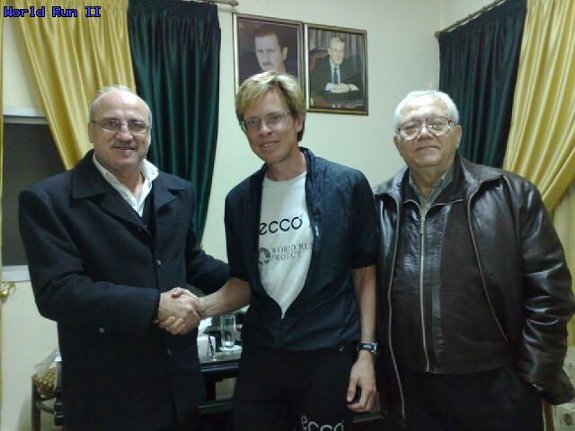 Meeting in Syria
Running into Damuskus, the Syrian capital and one of the oldest cities in the world still in function, was one of the highlights of the entire Middle-Eastern section. As you can imagine I had already by then enjoyed a huge support and it resulted in that I decided to repay it the best way I could: by showing some substantial mileage, doing a 95 km stage a few days running before Damaskus with entusiastic 'relay-company' the 10 hours it took me in total to run that stage, which by the way is the longest in the World Runs so far. Running through the narrow and twisty old streets of Damaskus, founded over 3000 years back, and finishing inside the huge bazaar' was truely remarkable and I cherished to share it both with the local runners and the danish ambassador who had put on the runningshoes to join in for the finishing 5 km of that days route! He had also made sure I was accomodated at the "Danish Institute" - a several centruries old danish cultural institute, dating back to where the relations between West and East were less influensed by fear and more by couriosity; one can hope it will again turn that way as there certainly is much to learn from eachother and pleanty of hospitality and friendship to be found also in the Arab world :-)
Africa
- Africa, however, was to be a quite different experiense.
Africa was in nearly all imaginable aspects the "shock" of this run, both in a positive and negative sense. It became an abrubt change from the Middle-Eastern softspoken politeness and insisting friendship the second I entered into the tourist hackling and hassles' of Egypt including several encounters with police which were hesitant to let me pass the roadblocks which are in place on many of the main routes. Peaking in two unpleasant episodes; one where my american co-runner Kelley, who had joined me for streatches in the Czeck Republic as well as Jordan and the Sinai Desert, were told to get off the ship with one minut warning before it was to sail us across the narrow bay of Aqaba from Jordan to Egypt. The reason behind it was plain and simple that he was an american. The other incident occurred when I was held back at gunpoint by two young soldiers following shortly after the finish of a day of running along the Gulf of Suez in 40-43 °c heat. The remote and empty sand beach I had chosen as my finishpoint was apparently a sensitive area and as I was about to pitch my tent they clearly made me understand I had to run on, though not before they had decided to drink my watersupplies. A thing I could hardly protest much to with two rifles pointing at me; still obviously water is one of the items which you need severely as there can be up to 100 km between populated places on that streatch. To this its important to add that I had quick and reliable help from the Danish embassy as were the case at all times in the Middle-East and Africa and I owe them much Thanks for easing my logistic or 'diplomatic' challenges on numerous occations!!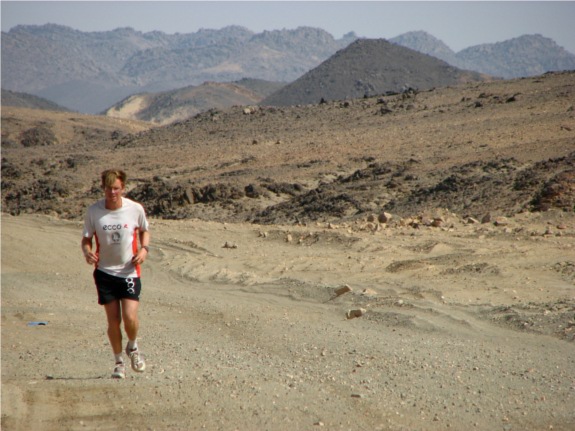 The Sahara Desert
But admidst all these conflicts and troubles, its vital to first of all mention one of the outstanding treats of the african part of the run: Sudan! The open reception by locals anywhere on my path during the nearly 4000 km through Sudan was a huge positive surprise. This was the contry which I had concentrated much of my focus on during the 2 years of preparing the run. Most of all since it holds the worlds largest desert, the Sahara, which had to be crossed by running to keep it a continuous run all the way across the continents. Known to most expedition planners it is no easy task to cross deserts of this scale even by car and certainly it wouldnt make matters easier beeing a runner wanting to jogg through. - a logistical puzzle where luck shined on me by ways of an excellent Canadian-English crew I met just as I entered Sudan along with the patient and silent supplydriver Mohammad from Wadi Halfa who were to secure my food and water needs on a streatch of more than 2000 km of desert terrain.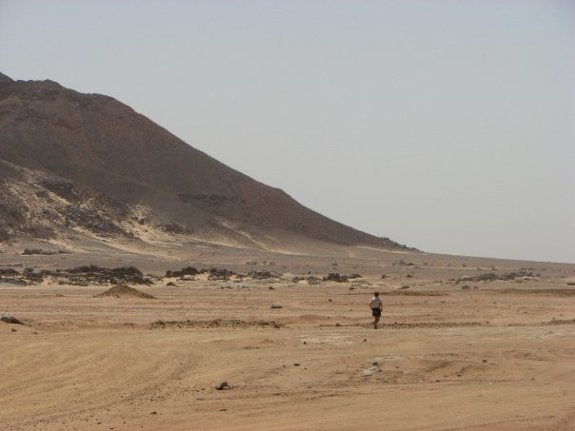 Sahara, lone runner in the desert - Photo by Jamie Fulbrook
But Sudan called for preparation also in terms of the expected or feared 'culture clash' which I had been warned about. There had been an unfortunate conflict between Denmark and Sudan arising from a cartoon of the Muslim prophet Mohammad several years ago in a danish newspaper. As it sometimes happens the incident quickly became political with no-one beeing large enough to stand down and relations eventually ended up beeing very tense. For example the diplomatic ties between the two nations were allmost cut and therefore obtaining a visa for Sudan was not a possibility by the time I stated the run from Nordkapp; I just had to hope that it would become possible before I reached the border some 10 000 km of running later. So I had to prepare myself for circumstaces where beeing danish would be an issue, and since Sudan measured by territory is Africas largest it could be a bit of a hurdle to run 'unnoticed' during the over 3 months it would take, allthough the main part of Sudan is desert and thrus very sparsely populated. Subsequently I got advice from many people to avoid mentioning that I was a danish citizen; though that stragegy can prove a tricky thing when asked to present ID-documents..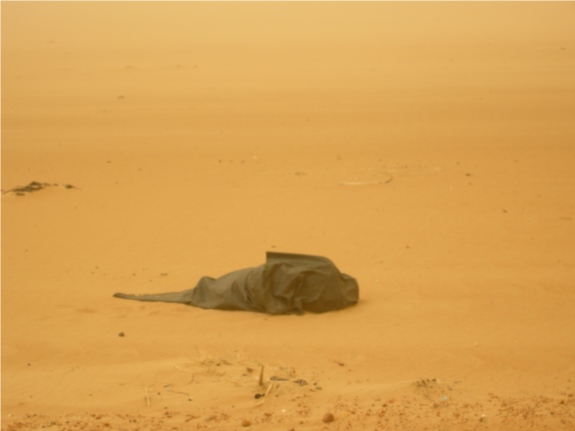 The Sahara, taking cover during sandstorm - Photo by Dee Osborne
In contrast to those expectations or preparations this contry became the highlight of the first half of the run :-) The gentleness of the desert people, the care for my safety and wellbeeing by all I met in this huge contry, but also their interest and couriosity towards both myself and towards why Denmark (or the newspaper in question) had acted derogatively towards a thing which for them is sacred. Still, instead of leading to hostility or negative reactions towards me it made grounds for some carefull and at the same time quite thrilling discussions. Despite my different culture and background I was many times invited to visit families and often people insisted in giving me small gifts of food for the long run ahead.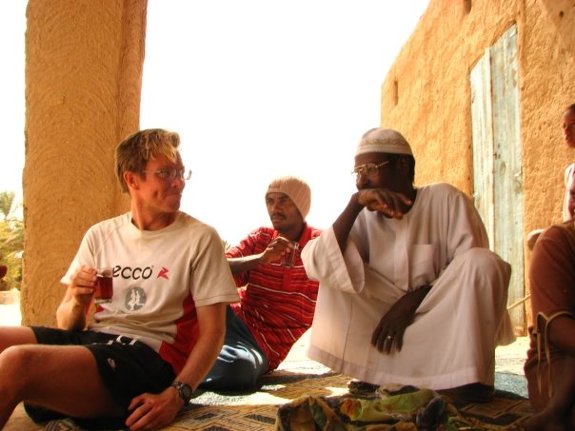 Tea in Sahara - Photo by Jamie Fulbrook
In the middle of all the positive sides Sudan was naturally also a challenge; yet challenges are sometimes what makes one cherish and understand life better and bring forward the essential values compared to the static of sitting at home in comfort. The challenges of Sudan meant a foreign language (arab), a quite harsh nature to run in (up to +53 °c while running across the Sahara) along with the odd political challenge: as coincidence had it, the sudanese president, Bashir, were indicted by the International Criminal Court just 2 days prior to the day I expected run into the capital and residence of parliament, the "desert capital" of Khartoum.
At the political level the sentiment was that the outside world, as they saw it, had interfered with internal affairs, and this was not taken lightly by the officials resulting in a situation where all foreign embassies in Sudan recommended an optional, but defacto, curfue during the 5 days following the verdict to ensure safety.
None of these things were a real problem through; the language I had picked up enough of to make myself understood while running through the Middle East and the weather you slowly adapt to since this way of circumnavigating our world is quite slow and gives you a chance to slowly adapt as the climates changes for each running week and months across the continents. As for the curfue then I was picked up by a car send out by the danish embassy and spend 5 raughter enjoyable days in Khartoum while the curfue was in effect (couldnt resist going for a small jogg in the streets though) and in many ways also this obstacle brought huge rewards and fantastic experienses :-)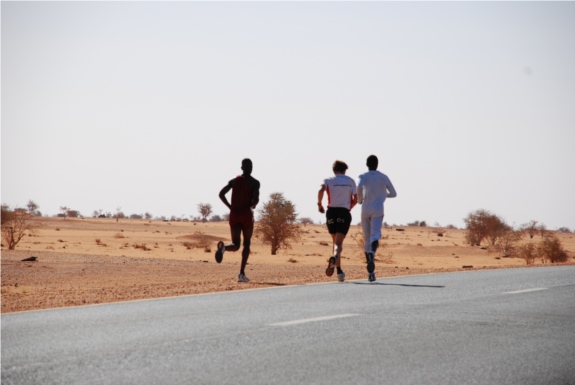 Runner company near Khartoum - Photo by Line Urban
But Africa is not just Sudan or its less friendly and much more 'touristy' northern naighbour Egypt! Far from; and there were some shaking days, weeks and months ahead for the next 7000 - 8000 km; something that I luckily didn't know by that time! And I can't say I am certain that I would have run even one step across the border after the North African part, had I known how big a part of my body and sould the next year of running would deduct me. The contrast when passing the border from South-Eastern Sudan into Ethiopia couldnt have been greather. Or more disturbing. After nearly 4 months of intense friendship and hospitality in the small desert settlements it was a last goodbye to Sudan which I had learned to appreciate as few other places on our planet. And a welcome to a place where stone-throwing by kids and teenages where the order of the day for the initial 1000 km of my run through Northern Ethiopia. This may be a thing to deal with, and its essential to know that there is ofcourse reasons behind why they react in this way to foreigners (I met a few bicyclists who had encountered the same reaction, though people in cars or motorcycles were spared), but when its weeks and months of these reactions mixed with general hostility and the "give me money because you are white"-mentality which I was soon to learn is the usual but regrettable 'greeting' in most of East Africa, or at least the approximately 7000 km I have run through, then it becomes a struggle to keep a positive attitude. Not least while recovering from the daily 50 km stages and tropical diseases which from this point became the order of day for my part.
This is not to be misunderstood in the way that I did not meet friendly people in East Africa, which following my route means Ethiopia, Kenya and Tanzania (Southern Africa; Mozambique, Swaziland and South Africa is a pleasantly different story; see below!). But there were further between a positive reaction than I have experiensed on any other continent or through any other region of the world. True, East-Africa has some of the most severe problems any region could imagine dealing with: droughts, diseases, a fragile economy, political instability, corruption, education scarecity. But as a political scientist and as a human beeing I was stunned to find the difference between how we understand some of these problems when seen from abroad, for example via the media, compared to how I experiensed it when running step-by-step through the region.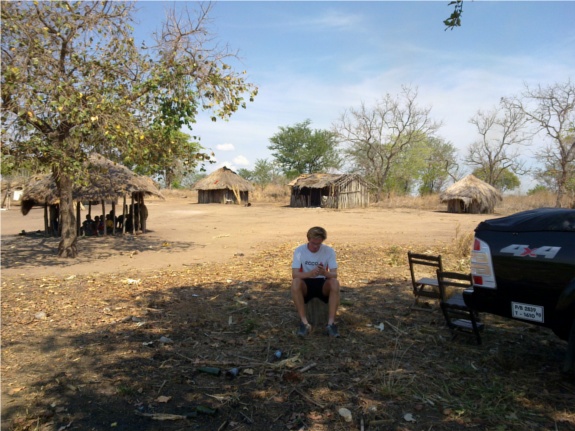 Writing the daily web-report
To my surprise the areas which I had learned were plagued by food shortages and droughts preventing the population from growing enough to eat - were not only 'green' areas but much food seemed to grow naturally without any help or cultivating (there were streatches with severe drought, mainly in Northern Kenya at the Marsabit volcanic desert where nearly no water or rain could be obtained and cattle etc. struggled to survive but this is an area of 100-300 km across; not entire regions). The problem, as far as I could see, were that nearly no effort at all were done to grow food or in other ways provide means for surviving. And eventhough I realize that its very "political uncorrect" to mention, then in all truth the problem appeared not to be shortage of food but over-supply of foreign aid (!). The reaction I met from high and low, rich and poor, small clay-hut villages and through the capitals were "give us food/money/cars because we are african". It may sound very rude and it certainly was much contrary to what I like to imagine, also politically where I have my preferences to the left of the middle, but the case in allmost every situation seemed to be a concept of Africa as a place which has a natural demand on the outside world to provide the means for daily life and solutions to their problems, with disturbing little consideration or initiative towards what they could or can do themselves.
I did not see many people working and especially not cultivating the land or growing foodsources; when it was the case it was almost solely the women who took care of the work and sustaining the families and economies. What I did see was a big range of foreign aid companies in activity distributing food and other basic items instead. To my surprise the most common scenario though, especially in Ethiopia, was to see a white UN car driving empty along the contryside with only one person inside and apparently nearly always empty. I soon learned that if one of these cars were parked outside a hotel it would be much too expensive for me or my crew to use as an overnighting place since it was a safe bet that this hotel would be the most expensive in the city/province. These cars were by the way easy to spot, besides the UN-logo, as they in average were the only new cars to be seen in those contries and usually less than 1-2year old, whereas cars in East Africa in general often are near or past the 'expiration date', in a big way.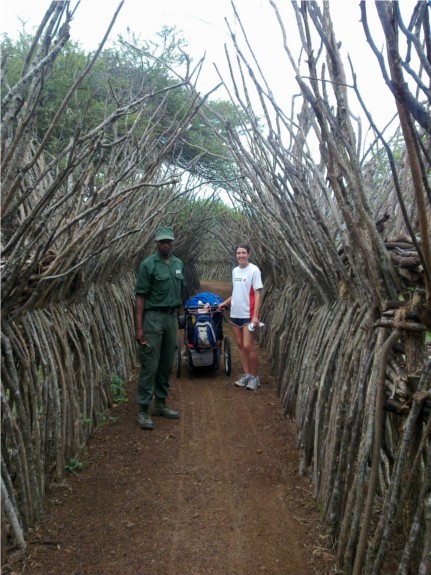 Accomodation
I couldn't help smile when I in one of the capitals had an oppotunity to watch tv and saw a documentary on BBC from the region - showing a decades' old bus filled to the last space with aid-items driven by voulenteer UN-staff resting in simple huts on the way. About as far as one can get from what I had seen on 3000 km of running through the contryside by that time.. ;-)
Since the situation undoubtedly are severe in parts of Africa is was disturbing to witness this 'charity-industry' for month after month and seen from a political science point of view its further quite harmfull for a development of a society if the outside help slowly brushes away the sociological and economical incentive for the contry to supply the commodities itself or develop a culture where it pays to make an effort. It was sad to see and read in the contries main newspapers how much of all new-building or finances automaticly were expected to be provided from "EU, UN, USA or the World Bank"; often occouring as merely a small note under politicians or locals ideas for new projects or improvements as the explanation of where the funds should come from. If the connection is broken between economic 'goods' and the .effort' which is needed to require the goods then it ofcourse becomes very hard to motivate anyone to produce something and bring the contry forward. And unfortunately this was the impression I got straight from the smallest villages to the parliaments.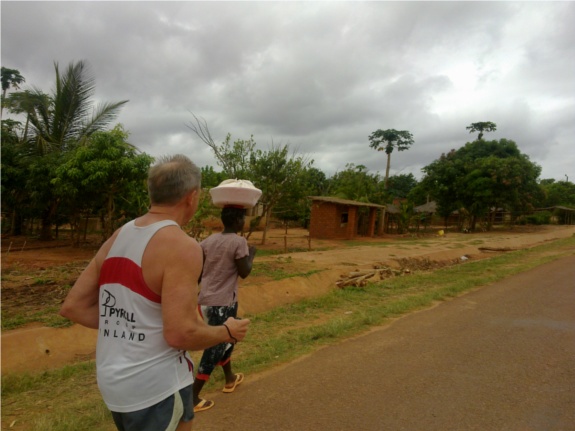 Reino Uusitalo from Finland visiting in Mozambique
However things are seldom this 'black-white' and the culture changed as soon as I had run the last streatch of Tanzania down to the border towards Mozambique, which I crossed by sailing in an interesting 'ferry-like' boat made from a dugout canoo mounted with an outboard engine and just offering enough room to fit in one tired runner and a somewhat battered runningstroller.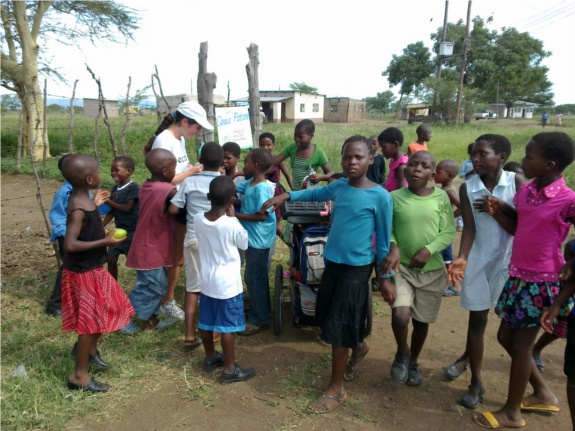 Sarah visiting in Swaziland
Mozambique impressed me by an almost completely different mentality of initiative and drive. where small business and cultivating the land was a common sight in even the most remote clay-hut villages and obviously in the fast-growing medium and large cities. It is a land which untill recently has been plagued by civil war and as a result has one of the highest degrees of poverty as measured by standard scales; yet the speed the land is developing both in relation to business, education, roads and infrastructure amazed me and its fairly clear that it.s a matter of years before it has surpassed its naighbours North of the border. My feeling is that the progress in almost all areas of this by the way quite friendly contry first and last is due to the initiative and sense of taking care of problems themselves which is present especially in the population out in the rural areas. And I by the way seriously doubt how much difference the governments make in these contries when talking of positive development.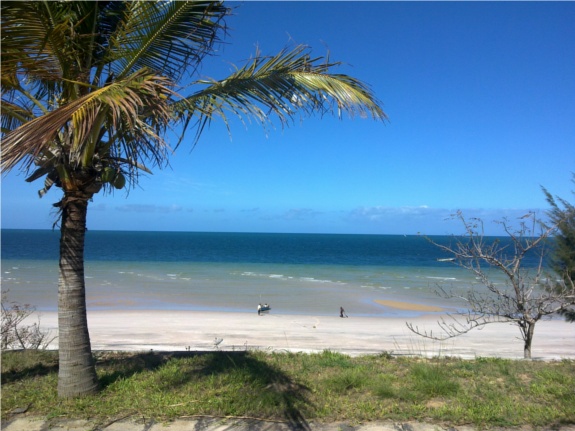 Resting, East Africa
The next major change came upon reaching South Africa which in most terms was as re-entering Europe. Suddenly the infrastructure was in place; the main roads in mint condition, electricity and water present almost everywhere. Even the usual 'back-home' selection of food was avaliable! On top of this I was beeing pampered by the local running communities to a degree only matched by the fantastic help in Finland, Syria (and Russia in World Run I, where the people of Siberia have a huge part of the honour that I made it running across this territory). As the budget was getting very tight I had decided to resort to push the runningstroller again and try to avoid using local supportcars and drivers as else had been the strategy to ensure supplies and transport of my equiptment while I ran the daily stages. But it was no good option as I was in a worn down physical condition by then: most of all due to tropical diseases ranging from mild diarea and amoebic dysenteria in North Africa, to Guardia infection, malaria and several wounds on hands and arms of which one infection in the right arm kept re-occuring and was operated upon in Dar Es Salaam, Tanzania, and East London in South Africa. Therefore I had some doubt of wether I could even maneage to push the stroller the last 3000 km left to Cape Town and still be able to maintain a run and not resorting to walking some of the way. Though, I had forgot to take into account the South African ultrarunning community which are among some of the most thriving and active on a global scale; amongst others they host the two largest ultrarunning races by numbers of participants: the 89 km "Comrades Marathon" with approximately 16 000 participants each year and the only slightly smaller "Two Oceans" on 56 km, which are only two events out of a large number of extreme- and multiday sports going on in this beautifull contry. The South African ultrarunners maneaged to cover my route with support to a point where I ended up only having to push the stroller for ca. 120 km of the 3000 km - the rest I could run with the pleasant knowledge that the local running club took care of transporting my equiptment from 'A to B' and at the same time often provided me with both company and offers of accomodation after the stages.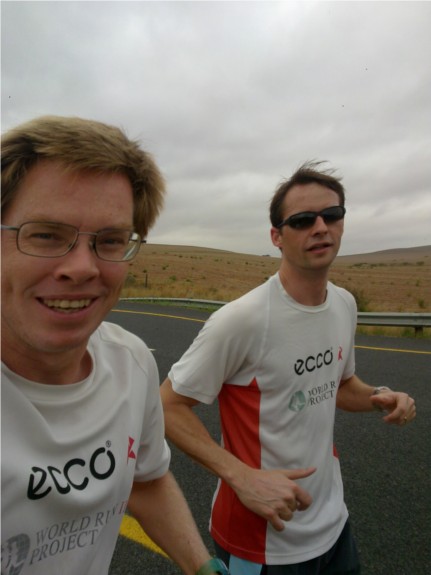 Catching up with old friends in South Africa
Now when I am beginning to rest and recover I regret that I didn't appreaciate the offers of accomodation and company better; yet by that time my daily average had declined to 20-40 km per day and I could hardly maneage to do other tasks than wash my clothes, eat and go to bed hoping to reagain enough energy to jogg through another day.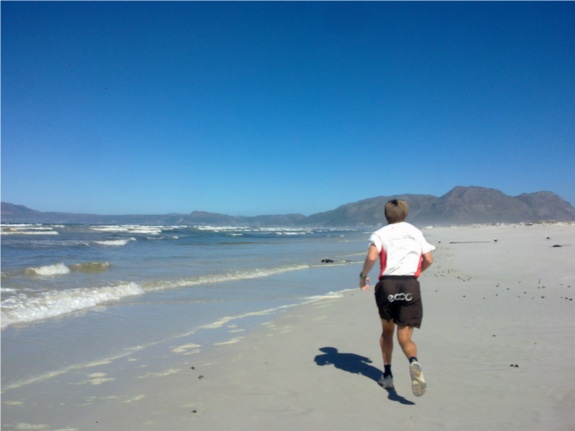 40 km left to Cape Good Hope
Of course there were some racial tension, but not as much as I might could have expected. I did notice that there were a clear concearn from the white population reguarding violence and crimes from the coulored or black community; yet I never had any bad encounters or incidents with any of the population-groups when I ran through their respective areas (they do still tend to live quite separated, with litte interest to mix from any of the groups). But apart from the presence of wire-fences around a big part of the houses in the northern half of the contry and the sense of "fear" or "awareness" amongst the white population, I didn't actually experiense the danger as beeing as high as its rumored to be.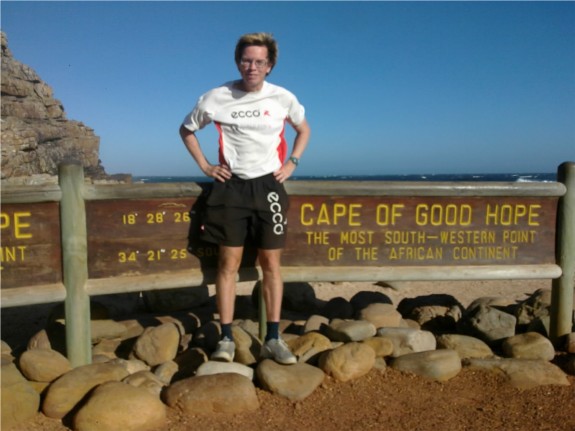 South-Western tip of Africa
That I reached Cape Town and the South-Western point of the continent, "Point of Good Hope" still is a thing I have hard to grasp, since it became so close to not beeing possible at all. In many ways I cherish the accomplishment even more than reaching Greenwhich in London after the 26 232 km of the World Run I. But then again; that first run was mostly through '1st world contries' and I had little idea how extremely challenging it would be to run for more than a year in conditions far from anyting we normally encounter in the western world. Much grattitude to all the people who helped me! :-))
Physical
As it appears from the obstacles during the african part the run did take a serious toll on the health. Also this is the main reason why I decided that it was the best option to take a substantial rest after reaching the half-way point and thus increasing the chances of reaching the end goal - and doing it enjoying the run all the way!
Fortunately there has no major running-injuries, through. A remarkable thing especially compared to the many struggles of running through all imaginable kinds of terrain. Certainly I am gratefull that the legs are still able to take the by now more than 47 000 km from World Run I and World Run II (along with 20 years of elitetraining before that). Its a tricky question why there has not been any serious injuries, apart from a knee-injury during a 6-day race in the spring of 2008 and a similar injury to the knee many years back when falling during a snowstorm back home in Denmark. Part is surely down to luck; some runners get injured each season unfortunately and other maybe once or twice in a lifetime. Part of it, I guess, is also due to beeing quite carefull and using as much injury-prevention as possible; I was fortunate that my first running club back in Denmark were of the recreational type where the main focus was on making sure you enjoy your training and avoid injuries - thus a lot of streatching and warming up before and after training, general mobility exercises and a progress in training which fits the body's ability and let it progress at its own pace and not the pace of the ambition. And perhaps a lot of planning: I like to make sure that the training is well thourght through and balanced towards making the body stronger in all its areas to avoid an unbalanced training. Besides this ofcourse to keep well clear of all the 'quick fixes' which can cure injuries or fatigue instantly but plays havoc with your body on long term (pain-killers and the like which unfortunately occour from time to time in this sport).
Still, the rest of the body did pay a high price for this first half of the World Run II. Untill I set foot on the African continent there were no major issues, however upon reaching Cape Town 10 000 km later the body had been through the whole range from minor stomack-upsets to malaria and two operations as mentioned above. Surely its also a sign that the body and immunesystem is at its present limit which is part of the reason behind taking the current 8month rest to ensure that everything has time to be rebuild and to regain the old strength.
In ways of physical fatigue then I have summed up the reactions from the body in the 1000 km, the 5000 km, 10 000 km, 1 year and 20 000 km reports which you can find on this website in the "News" archives as they were send out from the route when I reached the different marks. In short the way the body copes with these extreme distances seem to follow the same pattern in both World Run I and World Run II: the initial 15 000 - 17 000 km the recovery from one day to the next is not too problematic and after the first 2000 to 3000 km, where the body is trying to adjust to the unusual high workload of running more than a marathon per day, the ability to recover becomes better compared to training at home at normal level (for my part 100 km at low season and 200-350 km/week at high season). After the 17 000 - 19 000 km mark a 'dark-zone' starts where recuberating after the daily stages becomes harder and harder up to the point where simple daily tasks and social events puts too high a demand on the body.
Mental/ Motivational
- How do you prepare mentally for a run of several years, when already having done one?
In the preparation phase its a matter of putting yourself in similar situations as many times as possible before you actually are there: To try to 'live through' the expected difficult scenarios each day; see how you react, find ways to cope and find out where and how you can 'negotiate' with yourself and your comfortzone or sence of acceptability to proceed one day or one months of running further when you feel that "its enough Now". I think the more you put yourself mentally in the difficult situations and dilemmas the more you get used to them and the less the chance becomes that you get 'overwhelmed' when you actually are in a remote location, sick and perhaps exhausted and suddenly find out that for example your supply-car is out of fuel, gone or local authorities want to stop you from continuing. Its situations and dilemmas which seem extreme from an everyday-perspective, but once you have become accustomed to it they are in principle not more difficult to handle than any other situation!
Once on the road and months or years into the run the main difficulty is the length itself. I doubt anyone can relate fully to the concept of 20 000 or 40 000 km and thus you will need to continiously break the challenge into smaller bits: continents, regions, contries, streatches between main cities or 1000 km mark by 1000 km mark.
Also its vital to have a good and very reliable way of documenting the run and the exact daily stages. On World Run I I used the danish Life-Pilot system where your running is uploaded live step by step via a GPS-device incl. information about speed and altitude along with live pictures and small video-clips (see live-coverage link on worldrun.org). Its a crucial part of proper documentation in an area of ultrarunning where proper documentation often has been a problem - though it does not have to be that way as the tools are avaliable for detailed tracking even in remote areas. But it also plays a role in motivation: knowing that you have to run literally every step of the way and that it will be instantly visible if parts are skipped or walked, it in an easy way helps solve the question that else might pop up:
do I have to? In situations where its perhaps extremely difficult terrain, the weather is severe, illness is a problem, the people along the rute are hostile etc. In these situations you don't want to ask yourself that question; since its properly documented you have to run from A to B the full distance. No discussion :-) And it actually takes off some of the mental strain knowing that there is "no option".
The same strategy I largely use once committed - from the moment the run starts there is not the option to stop. Atleast not before reaching the halfway point as this time to take a break ;-) But in Africa, for obvious reasons I hope, there was perhaps in the range of 40-60 times/days on the streatch from Ethiopia to Mozambique where I wanted to "stop" - and it became more or less obvious that the body or mentality could not handle much more. But the premise of a run like this is a narrow balance between respecting the body and its signals and acting upon them, and yet maintain the spirit that unless its a matter of life or death - then you proceed. The way to deal with this dilemma follows largely two roads: to always try to focus on the positive (the nature, the cultures, the scenery, the people met, the subtle impressions of our earth for each step and the joy of the simple yet immensely challenging sport of distancerunning) and to 'negotiate' with the fatigue: not to be afraid to cut down the distance of a particular daily stage and accept that the progress will be slower than planned, ease off the pace for a few days or treat myself to someting special to lift the spirit. It often doesnt take much for the body or mind to catch up to the challenge again!
Equiptment
To give an idea of what type of materials and supplies this kind of running requires, I've made a list of the main items I used during this first half of the run, and along with it a few comments on quality and how I experiensed its functionality:
Shoes
- Ecco runningshoes; the Rpx 6000-series and the new Biom C. Approximately 29 pair total.
There was a drastic improvement from the first Ecco shoes I tested prior to the start, to the Rpx 6000-model I used the first 11months and again to the Biom C which became avaliable the last 10 months. Ecco is "new" to the running shoe market at least when compared to the main brands at the moment, Asics, New Balance, Nike and Addidas. There were a gap' between the performance of the shoes I used in World Run I (where Asics was the shoe-sponsor and had been my personal sponsor for serveral years before) and the Ecco models I used at the beginning of World Run II; I don't think I offend Ecco, who is the main sponsor of the World Run II, when saying this since there is a very high standard at the top of the quite competetive running shoe market. But it was equally pleasant to see - and feel - that the development department at Ecco has been fast and efficient in catching up with the leaders. The 'early models' like the Rpx series had a lower level of durability, cousioning and biomechanical level (the degree of the shoe aiding the running motion as opposed to hampering or disrupting a natural efficient running style) compared to the absolute top-shoes. The situation has drasticly changed with the latest "Biom" series: I was a bit skeptical at first since its a filosofi of shoemaking which is much closer to running barefoot than the usually higly corrective pronation or surpination shoes of the main brands.
And its no surprise that Ecco has named their filosophy "natural motion". Still, after around a week of getting used to the new shoes and the much higher level of 'running feeling' and ground contact in landing and push-off' - then they surprised me positively. Even though I have always been very fond of the caddilac-like comfort level of the Asics topmodels, which I have used since the mid. 1980'ties, then when I occationally tried an asics model more than halfway through Africa, it suddenly fealt clumsy compared to the snug fit and more natural/free running style I had been able to get used to with the Biom's! Also the durability issues have been adressed to an extend where I couldn see any difference in performance of the shoe beyond the 800-1200 km where I would usually retire a training shoe.
..So now its 'just' up to Ecco to convince the runners that they actually have a top-of-the-market shoe :-)
clothes
- Mainly Craft and Newline supplied via my main sponsor. Approx. 2 running jackets, 4 track-pants, 4 shorts, 8 running-shirts, 2 long-sleves, 10 socks.
The durability was overall good but with some issues with durability of jackets and shirts after many washes (I usually wash the running clothes by hand after each stage, so a lot of wear and tear that way). Mostly the durability issues were with Craft where as the Newline items had no problems even in extreme conditions.
running stroller
- The Cougar 1, topmodel of the Chariot running strollers, manufactured in Canada and sponsored by ABC-Kids denmark. 1 stroller has been used so far.
The particular model is very durable and does usually take a lot of kilometers before any signifikant breakdowns. After around 5000 km's use in World Run I some issues developed but nothing crucial. The same was the case this time; a few loose bolts/fittings but that is probably what you could expect after this kind of 'punishment' (running and pushing it on tarmac, gravel, cupplestones, mountain-roads, ice, sand, deserts). The weak-point, though, is the wheels where I this time made sure to fit it with kevlar tires instead of the standard rubber/nylon tires which puncture very often. After that not any problems with the kevlar tires. When running its mounted with a solar-panel to charge my cellphones, GPS etc. as well as equiped with a homemade wheel-mounted dynamo to provide electricity in overcast conditions. I mainly use the stroller to transport the equiptment when not having a support-car - which I only use in Africa South of Egypt as the terrain in Scandinavia, Europe and the Middle-East didn't provide any big obstacles in relation to pushing the stroller while running.
expedition tent
- So far I have used 2 expedition tents from the German producer Robens, sponsored by the Danish company Outdoor Oasis.
The durability has been good and the reason for changing to the 2nd one was mainly due to the different requirements of an European enviroment compared to the African and Sahra desert temperatures. Some minor issues with durability of the mosquito-net/mesh but nothing a patch of scotch-tape couldn't fix in 5 minutes :-) Overall a very good durability.
support-car
- I've used a fairly big range of support-cars as they often change from contry to contry and isn't, so far, a sponsored item. The weichles I used long term was of a Chrysler Wagon in Finland (presented to me by Reino Uusitalo of the Pyroll corp. to use for the entire Finland stages, approximately 1½month!), a Toyota Landcruiser in Sudan and the Sahara Desert (I started out with an old Peugeout which failed utterly and had to be replaced), a Ford pick-up truck in Southern Sudan, an approximately 20 year old Mitsubitshi Pajero for 5000 km through Ethiopia, Kenya and the Northern Half of Tanzania, a Toyota hi-ace in Northern Mozambique, Ford pick-up truck in Mid.- and Southern Mozambique and as mentioned several different cars in the rest of Africa.
By far the Toyota's were the best cars with litte to no issues even in some of the most extreme terrain and conditions you can offer a support car. The Ford pick-up's also proved to be durable and good cars with no big issues, although they were used in slightly easier conditions than the Toyota's. The Chrysler was driven and serviced by drivers also curtesy of my Finland support and as far as I know there were no problems at all, but also an easier terrain compared to the rest. The Pajero and the other cars mentioned were a struggle on at least a weekly basis with many big and small repairs but was a nessecary choise as I have a very tight budget. Though I have to say that I been very fortunate that a local danish runner has donated a generous amount towards finding a support-car in South America :-)
communication
- I used nokia cellphones with GPS and GPRS (global roaming) which took care of both updates of the website, keeping in contact with friends and regional/local connections and documenting the run via a live GPS-signal to the website. I went through 4 units of nokia phones, all of them their top-range models.
However an old 'low-tech' spare nokia lasted all the way through conditions as different as -4 °c in the Sinai Desert by night (inside tent), +53 °c in Southern Sudan and massive humidity in Mocambique. So its safe to say that 'the more advanced the phone the more likely it is to break down in tough conditions'. At present I am by the way looking for a new system to transmit the run via live GPS (from for example the build-in GPS of a cellphone) direct to the website. If anyone know of such a system with high reliability I be very happy to hear about it. The Nokia sportstracker system is one Im considering using for the last half of World Run II but Im hoping to find a system which can transmit both pictures, media-files and GPS-positions direct to a webserver for people to follow the run live at worldrun.org.
smaller items
- A ground-cover for tent and as emergency bivuark at arctic weather and in deserts, bungy cords to keep everything in place when using the running stroler (and as 'drying lines', and as compression-lines when using the ground-cover as body-wrap-around in extreme conditions), "freeze-bags" to keep e.g. electronics dry, solar panel to charge electronics, 5 stopwatches, 7 spare nokia-batteries, daily supplies of food and water + 2 days extra emergency-supplies.
Here the most surprising extra consumption were the stopwatches: I ended up using some fairly cheap Chinese no-name watches as even the more expensive ones didn't handle the challenges of the African heat, dust, deserts and swamps too well. Even an expensive Casio "Tough Solar" expediton watch designed for professional expedition-use with temperature, altitude, airpressure and compass-bearing turned out not to be so "tough" and only lasted short before its casing leaked in moisture.
[conclusion]
The first half of the run has been a very mixed bag of experienses and emotions.
But when all is counted in and summed up - its a huge priveleague to be able to experiense our planet literally running step by running step though all its nuances; both the pleasant with abundant friendship and amazing nature as well as with its pitfalls of mistunderstandings and inferno of deceases and discomfort.
Life itself perhaps can be seen as a labrinth seeking a path between pleasanties and obstacles and I thank all the people who helped locally, my main support mr. Phil Essam and all the sponsors who made it financially possible to take on the largest 'labyrinth of life' there is: the world itself :-)
But the run is far from over yet; the main goal still is to complete a new path into the areas of human endurence and even though becoming the first human to run through Africa (as well as from the tip of Europe to the end of Africa) nearly finished' me before I finish it - then I still have appetite for more: the final runnable continent left to conquer this way is South America, and in order to make it a complete run North to South and back, North America will also be part of the route as the last streatch.
This last half of World Run II begins 1st of January 2011 from Punta Arenas at the tip of the South American continent and as always everyone are more than welcome to eighter follow the run via the website or meet up and share the hardship and joy of the long roads as many did on the first half :-)
Recovery time.
At present I am home in Scandinavia where I have chosen to stay in one of my favorite city's, Malmö in southern Sweden just across the water from Copenhagen in Denmark; a city which has been my home also in between World Run I and II, since I cherish its blend of big-city life, calm green parks, historic squares, rural areas with pleanty of training oppotunities; and not least the fact that it currently is home to people of 172 different nationalities - coincidently as many as there are nations in the UN. So I might be home in the sence of comfort and convenienses and the chance to see old friends again, but at the same time always with the inspiration and input from other cultures right at hand.
The time is spend recovering from the range of tropical deceases picked up in this part of the run and the fatigue it eventually brought. Luckily the ordeal of recovering from the 'tropical souveniers' is nearly completed now and just a few wounds remains. This leaves surplus and time to do lectures on World Run I (pictures, video-clips and anecdotes along with the extended story of the experiense), planning the remaining 20 000 km through South- and North America and slowly resuming usual training level again (200-350 km/week). Along with thinking back with fond memories of the fantastic people and helpful attitude I met most of the way; I owe them much Thanks :-)
Already now I'm also sending eager throughts towards the Southern tip at Punta Arenas where the last half of the run starts. From there the route goes through Argentine and then towards the West coast of South America following the Pan-American highway all the way untill reaching Venezuela at the North of the South American continent some 10 000 km later. After this a run across Cuba and then North America from the Southern tip of Florida to Eastern Canada. If all goes well and Im correct in the assumption that South America does not carry the same degree of cultural and physical obstacles as Africa, I hope to reach the finish line by early autumn 2012.
But as mentioned, first its time to plan, get in world-running shape again, to give the website a brush-up and perhaps see if I can make notes for an english book on this first half of World Run II; as I hope you have got a glimse of in this half-way report it has been a fascinating experiense filled with highlights of cultures, nature, people and running challenges but also in many terms a run 'halfway through hell'...
With best wishes of enjoyable training and hope to see you out on the roads!
Jesper
www.worldrun.org
NB: You can find the GPS-tracking of the route via the live-coverage link, a longer series of video-clips can be found in the "News" archives and pictures from the run are placed in the "Gallery" which I hope to extend substantially with aditional photo's from the route before its off to the start in Punta Arenas by Christmas. The website will also be updated with news of the preparations as the time draws closer to the start.